So I've been going through a lot of my older writings of late. A little while back Aeon Books, a recently established occult publisher in Britain, agreed to reprint my first two books,
Paths of Wisdom
and
Circles of Power
, and did a fine job with both; what's more, they proceeded to bring out a new edition of my translation of Gerard Thibault's
Academie de l'Espee
-- the sole surviving legacy of a Western esoteric martial art based on Pythagorean sacred geometry and Hermetic philosophy -- and did it right this time; so we've had a series of conversations about other projects, and that's sent me digging through old file folders and back issues of out-of-print magazines for things I wrote in decades past.
The first result is a collection of my most popular talks on magic and occultism during the decade I spent going to Pagan events and magical conferences, covering everything from the secret history of Neopaganism through Victorian sex magic to the alchemical dimensions of lodge ritual. It'll be released in March of next year, but is now available for preorder; check it out
here
.
Next up -- it's not yet available for preorder, but I'll make an announcement as soon as it is -- is
The City of Hermes,
an anthology of all the articles on occultism I published between 1993 and 2000. Those were the years I spent linking up the teachings of the Hermetic Order of the Golden Dawn with their sources in ancient and Renaissance Hermeticism; the articles that resulted from that work appeared in an assortment of periodicals, all of them long since out of print and hard to find. This was the work I was doing before I found my way to Druidry, and I suspect a lot of my occultist readers are going to find much to think about (and practice) there.
It's always a strange experience, at least for me, to look back at what I was doing, studying, and thinking about in decades past. Still, I'm pleased to find that the material in these books still stands up well, and it's good to have a chance to get it out into circulation again.
(If you're interested in the whole set of my books published by Aeon, you can find them
here
.)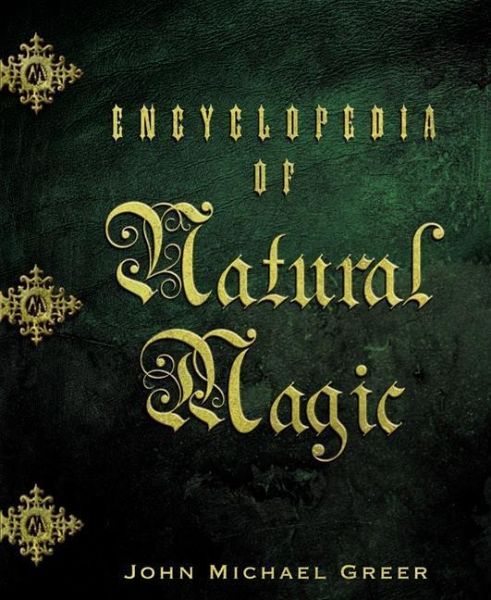 A few weeks back, during a discussion of practical magic on this journal, one of my readers commented enthusiastically that I really ought to write a book on natural magic. I ended up in the somewhat embarrassing situation of having to explain that, well, actually, I'd already published one:
The Encyclopedia of Natural Magic
, which first saw print back in 2000.
I got the point, which is that I've been lackadaisical in letting my readers know about my backlist, and went to the ever-obliging marketing department at Llewellyn, where much of my backlist has its home. They promptly arranged to put one of my books each month on a 20%-off sale. This month, not by accident, it's The Encyclopedia of Natural Magic.
Here's the deal. If you don't have a copy of this book, and want one, you can go to
the Llewellyn website
, order a copy, and enter the discount code
JMG0618
at checkout. That's all it takes. It's only good until June 30, though, after which a different book of mine gets the discount.
Questions about
The Encyclopedia of Natural Magic
-- or, for that matter, any of my books? Ask away.